Costa Rica Ultimate Photo Safari - June, 2008
Our June, 2008 trip to Costa Rica proved to be everything we hoped for. We had 7 participants, in addition to my wife and I, joined by Greg Basco of Foto Verde Tours, visiting Tortuguero on the Carribean coast, Arenal in the middle of the country, north of the Jaco area on the Pacific coast, and many areas inbetween. We enjoyed quite a number of unique photo opportunities, with many up-close encounters with monkeys, birds, crocodiles, etc.
In Tortuguero, we were amazed by the number of Bare-throated Tiger Herons we encountered - in the air, on nests, perched in trees, etc. We also had numerous encounters with various kingfisher species, and we were able to approach them amazingly close on numerous occasions. We also had a brief but exciting view of the Chestnut-colored Woodpecker, and saw Gray-necked Wood-Rails, Trogons, Sun Grebes, Purple Gallinules, Adult and Juvenile Yellow-crowned Night Herons, Roseate Spoonbills, and many other species of birds. On the grounds of the Evergreen Lodge, troops of both Howler Monkeys and White-faced Monkeys came down very low in the trees, affording fantastic opportunities to observe their behavior, as well as photograph them.
It was then on to the Arenal Volcano. Because of the local climate, and the elevation, many people visit Arenal, often staying several days, and never get a glimpse of it. We were extremely fortunate in that not only was the entire volcano quite visible for much of the time we were there, but there was a great amount of pyroclastic activity, which was just exhilarating to watch (and hear!). We spent a lot of time in the evenings taking long-exposure images, and found it hard to pull ourselves away and go to sleep! The feeders behind the Arenal Observatory Lodge were a little less active than usual, but we did see and shoot Passerini's Tanagers, Crimson-collared Tanagers, Golden-hooded Tanagers, Yellow-throated Euphonia, and others. Finally, we spent over an hour one morning shooting Collared Aracari that were nesting a very short distance from the Lodge.
On the Pacific Coast, we enjoyed the beauty and wonderful food at the Villa Caletas, a 4-star hotel located high up on the hills along the coast, affording spectacular views. Just walking around the grounds of the hotel, Red-eyed Tree Frogs could be seen and heard, along with Poison Dart Frogs, Fiery-billed Aracari, Chestnut-mandibled Toucans, Squirrel Cuckoos, etc. The boat tours on the Tarcoles River were great, with Double-striped Thick-knees, Scarlet Macaws, Wood Storks, Roseate Spoonbills, various Kingfishers, Boat-billed Herons (as well as many more Tiger Herons!), Mangrove Swallows, American Crocodiles, Basilisks, etc. During the hike at Carara National Park, we saw a Chestnut-backed Antbird, a White-whiskered Puffbird, Green and Black Poison Dart Frogs, etc.
There was plenty of time for workshop sessions, with instruction on a wide variety of topics, from both Greg and myself. Everybody's photography consistently improved as the days went by, as they were able to implement various concepts and techniques, ask questions, practice, etc. As with other recent trips, I tracked our location via GPS, using a new device for the first time (the QStarz BT1000 Platinum). It performed flawlessly, enabling me to geolocate where my images were taken. I have generated Google Earth files, which can be downloaded and opened using the following links: Birds1, Birds2, Other.
All Content © Donald L. Cohen, MD
All Rights Reserved

Click on each thumbnail to open up a larger image.



 


    

These
    images, along with all the others present in the various galleries,
    are available for purchase as prints up to 13"x19".
    For more details on buying prints, please click here.




---

  
Costa Rica Ultimate Photo Safari - June, 2008 - Other
| | | |
| --- | --- | --- |
| | | |
| Howler Monkey Relaxing | Parrot Snake | Red-eyed Tree Frog |
| | | |
| --- | --- | --- |
| | | |
| Arenal Volcano 1 | Arenal Volcano 2 | Arenal Volcano 3 |
| | | |
| --- | --- | --- |
| | | |
| American Crocodile Walking | Green Iguana/Blue Sky | Green and Black Poison Dart Frog |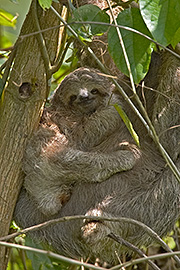 Three-toed Sloth Baby