Costa Rica

Photography Workshop
April 27 - May 7, 2012
Donald L. Cohen, MD - DLC Photography
Daily Itinerary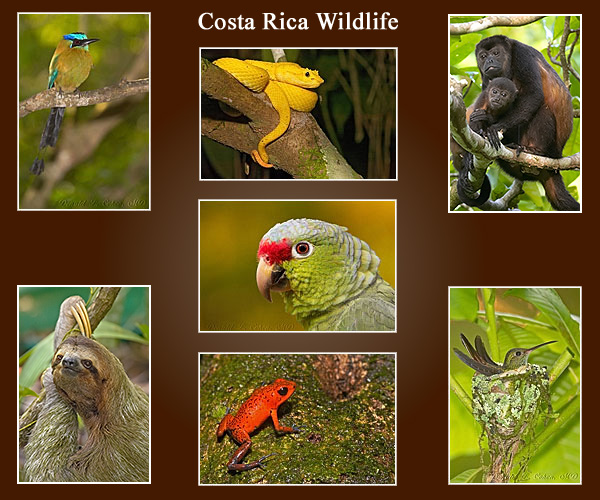 Travel will by on a spacious Air-Conditioned Bus, and we will have our own full-time driver, as well as our own Costa Rican bilingual Naturalist Guide. All meals are included with the only exception being the first dinner after arriving in San Jose, before the tour officially starts.
Day 1 (Friday, April 27):
Arrive in San Jose, where you will be met at the Airport, and transported to the Hotel Bougainvillea for an overnight stay. The Hotel Bougainvillea is a family owned and operated inn with 80 tastefully decorated rooms set in 12 acres of beautiful gardens. The restaurant offers continental cuisine in a wonderful dining room. Guests can stroll in the gardens, swim in the heated pool, enjoy a sauna or use the tennis courts.
Day 2 (Saturday, April 28):
Early morning pick-up from the hotel on our Private Bus, traveling to the Evergreen Lodge on the Caribbean coast, where we'll be spending 2 nights. There are no roads in Tortuguero National Park, in this, Costa Rica's "little Amazon", travel is by boat along a series of rivers and canals or by foot on forest paths. The park consists of a network of waterways surrounded by a vast tropical rain forest and is one of the best places to observe wildlife in Costa Rica. Tortuguero is a must for visitors who want to experience the amazing wonders of the tropical rainforest!
Day 3 (Sunday, April 29):
We'll be taking two boat trips to explore the many kilometers of Canals within the park, one early in the day, and one towards dusk, to get the best lighting conditions for photography.
Some birds species visitors are likely to see around the hotel grounds and the forests along the canals In Tortuguero are: King Vulture, Common Black Hawk, Laughing Falcon, Muscovy Duck, Great Curassow, Rufescent Tiger-Heron, Bare-throated Tiger-Heron, Agami Heron, Anhinga, Boat-billed Heron, Green Ibis, Gray-necked Wood-Rail, Northern Jacana, Sungrebe, Purple-throated Fruit Crow, Great Green Macaw, Mealy Parrot, Red-lored Parrot, Long-billed Hermit, Black-throated Trogon, Slaty-tailed Trogon, White-necked Puffbird, Ringed Kingfisher, Green Kingfisher, Amazon Kingfisher, Green and Rufous Kingfisher, American Pygmy Kingfisher, Chestnut-mandibled & Keel-billed Toucans, Collared Aracari, White-collared Manakin, Passerini's Tanager, Crimson-collared Tanager, Golden-hooded Tanager, Blue-gray Tanager, Palm Tanager, Black-cowled Oriole, Montezuma Oropendola.
Day 4 (Monday, April 30)
In the morning, we take the boat back to Caņo Blanco and then drive to the Turrialba area, checking in at the Rancho Naturalista. The premier birding lodge in Costa Rica, Rancho Naturalista is among the finest in Central America. Over 430 species of birds have been recorded in the area. These birds may be sampled from this comfortable lodge famous for its excellent food, welcoming hospitality and stunning volcano views. Provisions are also made for non-birding companions who will find Rancho Naturalista a relaxing holiday retreat. For the next three days we'll explore the fabulous bird life at the Rancho and the surrounding areas.
Days 5-6 (Tuesday-Wednesday, May 1-2):
Taking advantage of the grounds around the lodge, and extensive trails, we'll have the opportunity to see and shoot a wide variety of birds:
Common Bird species seen here would include the Chachalaca, White-crowned Parrot, White-necked Jacobin, Violet-crowned Woodnymph, Blue-crowned Motmot, Collared Aracari, Keel-billed Toucan, White-collared Manakin, Masked Tityra, Tropical Parula, Passerini's Tanager, Golden-hooded Tanager, Montezuma Oropendola, etc.
Less commonly but frequently seen birds would include the Snowcap, Tawny-chested Flycatcher, Purplish-backed Quail-dove, White-crowned Manakin, White-throated Flycatcher, Dull-mantled Antbird, Spotted Antbird, Thicket Antpitta, Black-throated Wren, Black-crested Coquette, Tawny-throated Leaftosser, Thrushlike Schiffornis, Grey-headed Piprites, etc.
Day 7 (Thursday, May 3):
After breakfast, we'll leave the Turrialba area, heading for the central Pacific coast, and the Hotel Paso De Las Lapas, staying there for the following 3 nights. The facilities include 10 fully equipped suites each with its own private terrace and kitchen. On the common grounds you can enjoy two delightful pools with water slide with Jacuzzi and cascade Two decks with cozy sunbathing beds.
Day 8 (Friday, May 4):
We'll start the day early, going to the Carara National Park. Carara has a transitional climate and contains flora and fauna from both the hot dry northwest, and the rainy region of the southwest. Carara's habitat includes marshes, primary and secondary forests, and is home to parrots, parakeets, toucans, trogons, and three species of monkeys. After lunch we'll drive toward the south pacific area, in search of Raptors and other bird species in the African Palm Fields and forest edge.
Later in the afternoon, we'll do a boat ride on the Tarcoles River, one of my favorite activities in Costa Rica, because it is consistently productive of great photographic opportunities. Along the banks of the river we will have the opportunity to see one of the largest colonies of crocodiles in Costa Rica and a chance to see over 250 species of birds such as scarlet macaws, tanagers, trogons, orioles, ospreys, cormorants, pelicans and roseate spoonbills. Later in the day, we'll go to a beach where we usually find a number of the amazingly colorful Scarlet Macaws. We've timed this trip to get there at low tide, so we can shoot the Macaws in the trees from the beach side, with the setting sun at our backs.
Day 9 (Saturday, May 5):
Today we head up to the Hacienda Solimar, just south of the mouth of the Tempisque River where it enters the Gulf of Nicoya. This 3,000 hectare working beef cattle ranch has reserved 30% of its terrain as a reserve for wildlife. I was so impressed by this location when we visited it in 2011, I wanted to make sure it was included on my next trip. Some likely sightings would include Roseate Spoonbills, Boat-billed Heron, Wood storks, Harris Hawks, Zone-tailed hawks, Crested Caracaras, possibly Double-striped thick knees, Black-necked stilts, Ferruginous Pygmy-Owl and with good luck, even the impressive Jabiru storks amongst many others.
After lunch we'll drive to the Palo Verde Safari Boat Tour, exploring the Tempisque and Bebedero Rivers. Birds that could be found in wetlands, pastures and dry-forest in Solimar and Bebedero River : White Ibis, Black-bellied Whistling-Duck, Bare-throated Tiger-Heron, Laughing Falcon, Northern Jacana. Also, Thicket Tinamou, Great Curassow, Crested Bobwhite, King Vulture, Orange-fronted Parakeet, White-fronted Parrot, Yellow-naped Parrot, Cinnamon Hummingbird, Black-headed Trogon, Turquoise-browed Motmot, Hoffmann's Woodpecker, Brown-crested Flycatcher, Long-tailed Manakin, White-throated Magpie-Jay, Rufous-naped Wren, Banded Wren, Streaked backed Oriole.
Day 10 (Sunday, May 6):
On our way back to San Jose, we'll visit the La Paz Waterfall Gardens, where we will have an opportunity to see waterfalls from viewing platforms, a Butterfly Observatory, a fantastic Aviary, Monkeys, Hummingbirds, Snakes, Jungle Cats, Frogs, and a casita (typical house). After the tour, return to the Hotel Bougainvillea.
Day 11 (Monday, May 7):
Departure transfer to the International Airport, check-in 3 hours before scheduled flights.
---
For all inquiries and questions, my contact information is
dlc@dlcphoto.com

704-664-6077 - phone



888-452-8026

- fax

To make a reservation, email John Aspinall at:
jaspinall@crconnect.com
Costa Rica Photo Workshop April 27 - May 7, 2012 - Home Page
DLC Photography Home Page