Maine, Nova Scotia & New Brunswick - July, 2004
I thought I might use a different format for these images, to try and give a better feel for the trip as a whole. I'm hoping it will be helpful to anybody who might be considering a trip to any of the areas we visited. We relied on general internet research for our planning, but also on the spiralbound Photo Traveler Guides available through the Photo Traveler website. We've used these on a number of our trips, and have found them quite helpful. I hope you enjoy this 'Travelogue' type approach, but would appreciate feedback one way or the other.
All Content © Donald L. Cohen, MD
All Rights Reserved

Click on each thumbnail to open up a larger image.  Hit your browser's 'Back' button, or click on the larger image, to return to this page.



 


    

These
    images, along with all the others present in the various galleries,
    are available for purchase as prints up to 13"x19".
    For more details on buying prints, please click here.
---
I have always loved Atlantic Puffins, and since I became re-involved with photography almost 6 years ago, haven't had any opportunity to shoot them in the wild (a few 'behind the scenes' shots at the NC Zoo just wasn't too satisfying!). I had read about the colony of puffins at Machias Seal Island, and since we love Maine anyway, decided we'd head up there to try our luck. There are only a few boats that travel there, and the landings on the island are pretty tightly controlled. I considered working out of Cutler, Maine, with Capt. Andrew Patterson (Bold Coast Charter Co.), but we ended up choosing to go from Grand Manan, New Brunswick, with Peter Wilcox of Sea Watch Tours, as it fit better into the overall itinerary we created. We created a "loop" for our travels, and found ourselves going on quite a few ferries to accomplish this (13 all together!). The middle and latter part of July seemed to be 'prime time' for the puffins at Machias, and we'd also be able to take some whale-watching trips that time of year as well.
We flew into Boston the morning of Saturday, July 17th, rented a car, and head up the coast toward Bar Harbor, our first stop. This is an incredibly picturesque ride, once you get past Portland, and travel on Route 1, along the coast. We took a detour off Route 1, down Route 129, and then Route 130, heading down to Pemaquid Point. At this stage of our trip, we had beautiful, clear, crisp weather, and we enjoyed every minute of it. We drove back to Route 1, arriving at Bar Harbor around 8 pm; no time or opportunity for shooting that evening.
| | |
| --- | --- |
| | |
| Pemaquid Point 1 | Pemaquid Point 2 |
Even though the sun rises early this time of year (about 5:00 am) I decided I had to get up in time to be at the top of Cadillac Mountain to see it. This is the highest point on the Eastern Seaboard, and those who get up there in time are the first to see the sun rise. I was quite surprised that there were several dozen of us up there by the time the sun rose. It wasn't a particularly spectacular sunrise, but it was definitely worth the effort, and the fog on the island and waters below provided the potential to make some interesting images.
| | |
| --- | --- |
| | |
| Cadillac Mountain Sunrise 1 | Cadillac Mountain Sunrise 2 |
I rejoined my wife, and grabbing a few breakfast bars, we headed out to do some driving and hiking in the Acadia National Park. We drove down to the Otter Cliffs parking area, and did the 2 mile hike to Sand Beach. There were some very beautiful views of the rugged Maine coast, and the cool weather was quite invigorating. After spending some time at Sand Beach, we got lazy, and hitch-hiked back to our car at Otter Cliffs. We continued on down the road, making a stop at the famous Jordon Pond area. We hiked a short ways up the east side of the pond, and had some nice views of the mountain pair referred to as "The Bubbles" reflected in the waters of the Jordan Pond (although a little less wind would have made for a calmer surface!).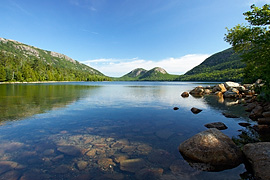 'The Bubbles' reflected in Jordan Pond
We then headed down to Northeast Harbor, in order to take a ferry over to Great Cranberry Island. We didn't find a lot to see or shoot there (I'm not too interested in the Architecture that many like to shoot), but did enjoy a little exploring along the rock-filled shoreline.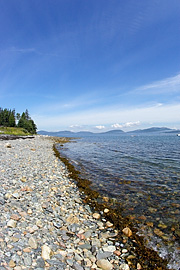 Great Cranberry Island Coastline
We decided to head back to Bar Harbor after a quick bite at the "Full Belly Deli" with plans to rest a little, and then go to Bass Harbor for Sunset. On the way back, a beautiful scene at Long Pond caught our eye, so we made a stop there. Although it was mid-day light, it was still quite beautiful, and there were loads of lilly-pad flowers along the shore.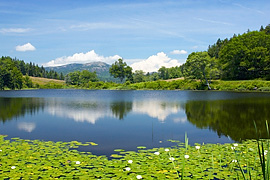 Long Pond
After a quick nap, and a stroll in downtown Bar Harbor, we set out for Bass Harbor. What we found was to be a harbinger of what was to come: Fog! We stayed there a while, hoping for some clearing of the skies, but it wasn't to be. We took some shots, and decided to head back to Bar Harbor.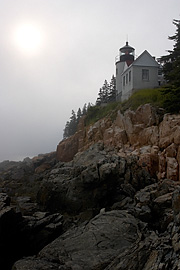 Fog Enshrouded
Bass Harbor Lighthouse
As we drove toward Bar Harbor, the skies seemed somewhat clearer, and we made a last-minute decision to try for the Sunset at the top of Cadillac Mountain. We arrived in time, and found quite a few people with the same idea. Again, the skies and clouds didn't cooperate, but I got a quick-grab shot of a Herring Gull that was hopping around the area, and did take a few shots of the sunset, such as it was. It had been quite a long day, starting at 4:15 am, but given the relatively clear skies, I felt I had to take advantage of it to the fullest.
| | |
| --- | --- |
| | |
| Herring Gull on Cadillac Mountain | Sunset at Cadillac Mountain |
The next day, we did some driving around Mt. Desert Island, but the skies were drab. We spent some time at Asticou Gardens, and took some shots there, but nothing worth posting here. We got on the "CAT" Ferry that afternoon, and traveled to Yarmouth, Nova Scotia. There was basically no view of anything - fog obscured everything. No seabirds, no whale-watching, etc. Our plan for the next day was to travel around the southwestern coast of Nova Scotia, which we did, but again because of the fog, saw very little. We made a stop at the Kejimkujik Seaside Adjunct, taking a two mile hike to the "Seal Cove" Section, but neither saw, nor heard, any seals. The following picture shows my wife in a vain attempt to locate anything moving in the fog: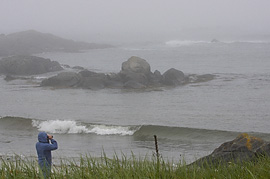 Seal Cove at
Kejimkujik Seaside Adjunct
We considered a stopover at Peggy's Cove, a very famous site in Nova Scotia, but since the fog seemed impenetrable, and not likely to clear (based on local weather reports), we decided to just go straight to the Digby Peninsula, going to the very end of it, traveling on 2 more ferries, to finally check in at the Brier Island Lodge. We drove around some that day and the next, checking out the lighthouses, but fog was our constant companion. We went ahead with the whale-watching trip we had previously scheduled with Mariner Cruises, despite the fog. We did see some Greater Shearwaters, and the highlight of this trip was getting reasonably close to a single Humpback Whale, which we followed and observed for about a half-hour. It 'fluked' a few times, providing some decent photo-ops, despite the fog and dismal skies.
| | | |
| --- | --- | --- |
| | | |
| Greater Shearwater 1 | Humpback Whale Fluking 1 | Humpback Whale Fluking 2 |
With this partial success behind us, we embarked on the next leg of our trip, and after a total of another 4 ferry rides, we drove onto Grand Manan Island, New Brunswick. And at about 11:00 pm, driving at about 15 mph in order to spot it in the dense fog, we finally arrived at "Spray Kist Cottages." Unfortunately, the place was a 'dump.' I hate to be unkind, but as my wife phrased it in our Travel Journal, it was a "conglomeration of bits and pieces." No bathroom sink (had to brush our teeth in the kitchen), wallpaper over the studs (no dry wall), 7-foot ceilings, etc. But at that hour, there was no turning back, so we made do for that night and the next (we had planned on 4 nights there, exploring Grand Manan, but between the fog outside, and the dismal interior conditions, we cut it short).
The southern end of Grand Manan, where our cottage was located, had apparently been socked in by fog for several weeks, and it didn't clear at all during our stay there. The northern end of the island was somewhat clearer, and we took a chance going on a Whale Watching trip with Whales-n-sails Adventures. We again saw some Greater Shearwaters, along with an occasional Atlantic Puffin, and spotted a few Minke whales. But this was at quite a distance, and they neither breached, nor dove, so the few photos I took of them were quite uninteresting. But we were just glad to be able to see more than 10 feet around us, and shot whatever was available.
| | | |
| --- | --- | --- |
| | | |
| Grand Manan Lighthouse | Fishing Vessel on Fundy Bay | Greater Shearwater 2 |
And finally, on Saturday July 24th, the time arrived for our boat ride to Machias Seal Island, the primary reason for our heading up to this part of the world. The weather conditions made it uncertain whether or not the boat would even go out, but I called him quite early that morning, and Capt. Wilcox said the trip was a 'go.' The 90 minute boat ride to the Island was a fair amount rougher than I anticipated, and I had to exert quite a bit of mental effort to prevent motion sickness. And, as expected, the fog was once again dense, so there was very little to see around us on our way there. But we eventually arrived, and then carefully made our way onto the smaller boat bringing us to shore, and even more carefully walked along the often slippery, seaweed covered rocks, to the area where the bird blinds were located.
| | |
| --- | --- |
| | |
| Razorbill Auk 1 | Razorbill Auk 2 |
We were divided into small groups, and they were kind enough to allow my wife and I one of the blinds to ourselves (I guess because our cameras and lenses were considerably larger than those of the others!). They told us that we would have about 45 minutes to spend in the blinds, and they would then come for us, to make room for the next group. The blind we were in was perhaps 7 feet tall, 4 feet wide, and 9 feet long (approximately). There were small openings which we could shoot through (being careful not to open those on opposite sides, to prevent birds from seeing into and through the blinds). I would definitely have wanted to use a flash, but the openings were not big enough to allow this. I would have needed an assistant to hold the flash in front of one opening, while I shot through another next to it, and this wasn't an option. The fog was pretty dense, but since many of the birds were quite close to the blind, we were still able to get some decent close-ups. Distance shots, especially flight shots, were much more problematic because of the fog.
| | | |
| --- | --- | --- |
| | | |
| Atlantic Puffin Headshot | Atlantic Puffin Wingflap | Openbeaked Atlantic Puffin |
I took some Photoshop liberties in the 'Dreamy' shot below, to accentuate the foggy atmosphere, trying to emphasize mood, rather than clarity. I was amazed how quickly 45 minutes passed, and I'll have to admit I was a bit frustrated that I had come all this distance, for 3/4 of an hour shooting the puffins. I was also a bit disappointed that virtually no feeding behavior was going on. I had envisioned shots of puffins with their beaks full of fish, but we only saw this occur twice, with a bird landing almost directly below us, and disappearing essentially immediately into the rocks underneath, with no chance whatsoever to capture it. But in the end, I was quite happy to have had this experience, and to come away with a few worthwhile shots of these incredibly beautiful little birds.
| | | |
| --- | --- | --- |
| | | |
| 'Dreamy' Puffin Landscape | Atlantic Puffin in Flight | Atlantic Puffin Landing |
After our time with the puffins was up, we had a few minutes in the 'waiting' area to shoot the Arctic Terns that were quite active. We also saw quite a number of the cute little tern chicks while carefully walking to the outhouse, but we were forbidden to stop and shoot them (to minimize trauma and time they would not be attended by their parents). Talk about frustrating! But I shot what we could (through the omnipresent fog!), again taking some liberties in Photoshop to accentuate mood in the second shot below.
| | |
| --- | --- |
| | |
| Arctic Tern in Flight | "High Key" Arctic Tern in Flight |
We returned to the boat, and had a somewhat smoother ride back to Grand Manan. We checked the weather report, and the fog was projected to continue unabated. We had only a single slot reserved for another puffin boat ride 2 days later, and we ended up deciding to pass on that, left Grand Manan early, and headed back to Maine. We overnighted at Ellsworth, and took a leisurely drive along the coast the next morning, checking out Stonington, Deer Isle, Blue Hill and other areas between there and Camden, our final destination. We opted for a few relatively restful days to end our trip, as it had been incredibly busy thus far, dealing with fog, ferry schedules, and quite a bit of logistics and planning.
My only remaining wish for this trip, which we really hadn't specifically planned for, was to see and shoot some loons. This is another of my favorite species, and I hadn't seen or heard one since we spent about 10 weeks near Waterville, Maine, attending a course at Colby College as part of my Ophthalmology training in the summer of 1981. We located Megunticook Lake on the map, just north of Camden, and hoped we might find some loons there. We would have liked to done some kayaking, but the timing and other logistical issues made this impossible. So we just headed up there in our car, and basically drove completely around the lake, looking for possible areas to see some loons. One promising location got our hopes up, but the action we spotted from the road turned out to be a bunch of Canada Geese. They did put on a show for us, and we took a few shots just for the heck of it.
Later that evening, we came across another location that looked promising, and after spotting a single loon, I set up my equipment on a small dock, and hoped for the best. We got a little lucky, and we found a group of 3 loons, quite a distance away from us. I put on the 2x Teleconverter, and shot them as they made their way across the lake. Even with this equipment combo, I still had to crop the frame to 25% of the original area for the shots below. But I came away happy that I was able to get any loon shots at all, considering the limited opportunity and window of time we had to work with.
| | | |
| --- | --- | --- |
| | | |
| Canada Goose Flapping | Common Loon Wingflap | Common Loon Pair |
So all in all, we had a great time despite the fog and other factors working against us - as they say, the worst day on vacation is still better than the best day at work!